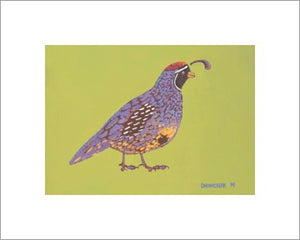 The gamble's quail is small ground bird that inhabits the southwest region. With its distinct pear shaped body and teardrop shaped head plume, this quail is a common sight in the Sonoran desert. ~ Sue Dranchak
Image is a printed reproduction from the original acrylic painting.
Printed on brilliant, white heavyweight paper.
Print size:  5"x7"
Matte size: 8"x10"   - single white matte

Packaged in protective, clear plastic sleeve.
Ready to slide into a ready made frame.
Fits most  8"x10" frames.

A great gift idea!
Made in USA
Another option:  Note card