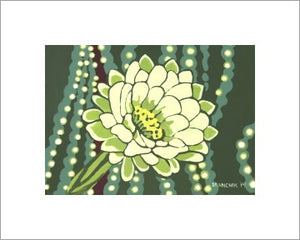 The spectacular blossom of a night blooming cereus cactus basks in the light of a full moon. These nocturnal beauties with pale white petals can often be enjoyed during twilight and the early morning hours. ~ Sue Dranchak 
Image is a printed reproduction from the original acrylic painting.
Printed on brilliant, white heavyweight paper.
Print size:  5"x7"
Matte size: 8"x10"   - single white matte

Packaged in protective, clear plastic sleeve.
Ready to slide into a ready made 8" x 10" frame.
Fits most  8"x10" frames.

A great gift idea!
Made in USA
Another option:  Note card