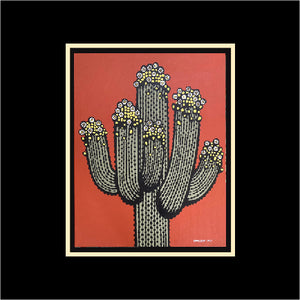 Blooming Saguaro #70
2023
Cactus represent strength and protection and are symbolic of the ability to survive and prosper in a harsh and unforgiving environment. 
"Blooming Saguaro #70" was inspired by the charismatic giant saguaro cactus. It is easily on of the most recognizable cactus in the desert. My favorite time to observe the saguaro is when they are bursting with blooms in the early spring months. "Blooming saguaro #70" is the 70th variation of my 'blooming saguaro' series of paintings. Each "Blooming Saguaro" painting is unique in composition and varies is palette, canvas size and format. This vibrant and warm painting will add a nice touch of sophistication and style to your living space or office

Original acrylic painting on canvas, framed in a floating style frame with a natural finish, wired on the back and ready to hang on your wall.
Painting size (canvas size)   16" x 20" x .75"

Frame size/outer dimensions  18" x 22" x 1" 
Blooming Saguaro #70 - Original art created and produced entirely by Sue Dranchak, Artist/Owner Dranchak Studio LLC. All rights reserved.